Congenital heart disease is the most common form of birth defect. Thanks to modern-day advances in medical and surgical care, most children born with serious congenital heart defects survive long into adulthood.
In the US, there are now more adults with congenital heart disease than children. This is evidence of phenomenal medical successes, but also means that many adults with congenital heart disease require lifelong care to live a long and healthy life.
Personalized Care for Life 
The Weill Cornell Center for Adult Congenital Heart Disease provides individualized care for adult patients with congenital heart disease. Our specialized care maximizes the cardiac health and social well-being of our patients.
We offer patients: 
Consultative services, including outpatient and inpatient
The most advanced imaging technology for diagnosis (3D-echocardiography, intracardiac echo, cardiac MRI, and cardiac CT) 
Cutting-edge minimally invasive surgical options
Comprehensive cardiac and medical management
Therapeutic interventional cardiac catheterization and electrophysiology therapeutics
Partnership with surgical specialists with expertise in congenital heart disease and perioperative management
High-risk obstetrics and gynecology consultative services
Transition clinic for young adults with congenital heart disease (in partnership with Cornell Pediatrics Cardiology)
Conditions and Treatments 
We treat all conditions and disease related to Adult Congenital Heart Disease, including: 
Anomalous pulmonary venous connections
Anomalous coronary artery disease
Aortic valve disease
Atrial septal defect (ASD)
Coarctation of the aorta
Complex congenital heart disease
Coronary anomalies
Dextrocardia
Ebstein's anomaly 
Patent ductus arteriosus (PDA)
Patent foramen ovale (PFO)
Pulmonary hypertension associated with congenital heart disease (Eisenmenger syndrome)
Pulmonary regurgitation 
Pulmonary stenosis
Single ventricle
Tetralogy of Fallot
Transposition of the great arteries (TGA)
Tricuspid atresia
Truncus arteriosus
Ventricular septal defect (VSD) 
Treatments available at Weill Cornell Medicine 
Our cardiac interventional team offers expertise in performing minimally invasive and hybrid interventions in congenital heart disease including:
Percutaneous closure of: 
Atrial septal defects
Patent ductus arteriosus
Patent foramen ovale
Vascular and coronary fistulas
Ventricular septal defects
Angioplasty and stenting:
Aortic coarctation
Pulmonary arterial stenosis
Pulmonary vein stenosis
Valvular therapies: 
Transcatheter valve replacement & repair. 
Balloon valvuloplasty
Complex congenital heart disease procedures: 
Baffle Stenting (e.g. SVC baffle stenosis)
Fontan interventions
Our Team
Clinical Adult Congenital Cardiologists: Harsimran Singh, M.D., Jonathan Ginns, M.D.,
Congenital Heart Surgeons: Leonard N. Girardi, M.D., Emile Bacha, M.D. Paul Chai, M.D. and Damien LaPar, M.D.
Hypertrophic Cardiomyopathy: Jonathan Ginns, M.D. and Harsimran Singh, M.D.
Congenital Interventional Cardiology Team: Harsimran Singh, M.D., Ralf Hozer, M.D., and Geoffrey Bergman, M.D.,
Marfan's Clinic / Aortic Disease: Richard Devereux, M.D. and Mary Roman, M.D.
Medical Genetics: Christopher Cunniff, M.D.
MRI / CT: Jonathan Weinsaft, M.D. and Jiwon Kim, M.D. & Quynh Truong M.D.
Pediatric Cardiology Team: Ralf Hozer, M.D., Seema Abraham, M.B., B.S., Sheila J. Carroll, M.D., Jeffrey Dayton, M.D., Patrick A. Flynn, M.D., Jeffrey Howard Kern, M.D. and Leonard G. Steinberg, M.D.
Pregnancy & Heart Disease: Jonathan Ginns, M.D., Evelyn Horn, M.D., Harsimran Singh, M.D.
Pulmonary Hypertension (Eisenmenger Syndrome): Evelyn Horn, M.D., Parag Goyal, M.D., Udhay Krishnan, M.D., Maria Karas, M.D. and Irina Sobol, M.D.
Cardiac Care Associates for Adult Congenital Heart Disease: Jillian Nati, NP, Morgan Burrell, NP, Donna Marotti, RDCS, FASE, Brooke Goedde, RDCS, RDMS,  Regina Pascale, RDCS, Zhibin Li, RDCS, RDMS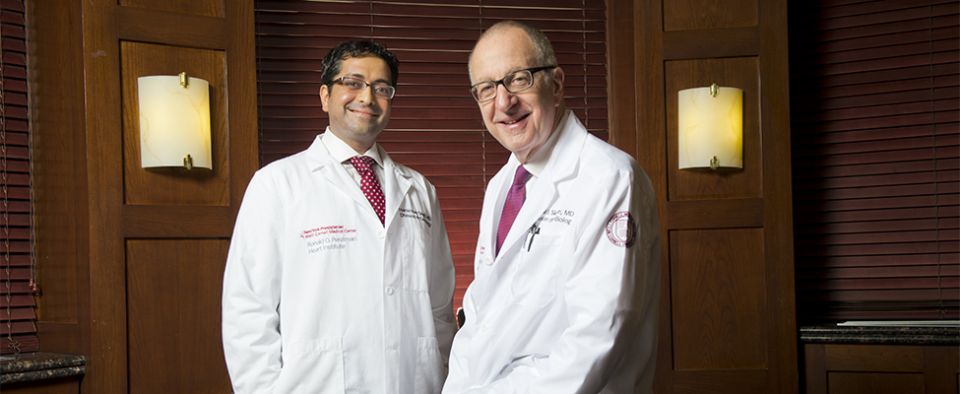 Request an Appointment
To make an appointment to see one of our physicians with expertise in Adult Congenital Heart Disease:
Contact our physician offices directly by calling: 646-962-ACHD (2243)

If you are already an established patient:  You can request an appointment online, using Weill Cornell Connect. We will make every effort to contact you within 24 hours.
Our staff is here to help coordinate your care. They will provide you with information on our physicians, their areas of expertise and help arrange for your visit and testing as needed.
Our Physicians
| | Faculty | Title | Phone | |
| --- | --- | --- | --- | --- |
| | Jillian D. Nati, N.P. | Nurse Practitioner | 646-962-2243 | Full Profile |
| | Harsimran Sachdeva Singh, M.D. | Assistant Professor of Medicine, Director Adult Congenital Heart Disease, Director Cardiovascular Disease Fellowship | 646-962-2243 | Full Profile |